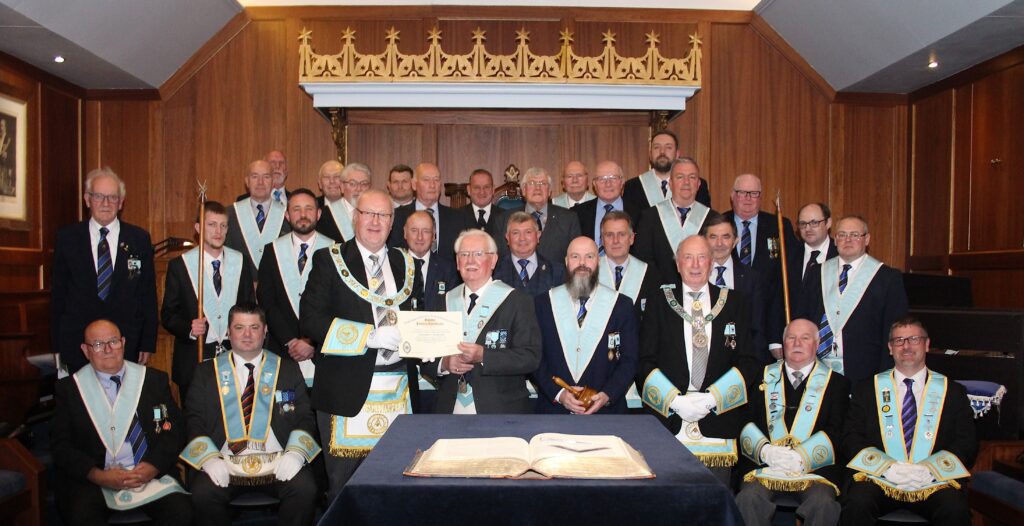 R.W. Brother George Grahame, accompanied by R.W. Brother Samuel Brennan and R.W. Brother J. Russell Millar, attended Larne M.L. No.41 to present W. Brother Inglis McIlwrath with his fifty-year jewel and certificate.
The Worshipful Master, W. Brother Andrew Lowe, together with R.W. Brother Grahame and R.W. Brother Brennan carried out the presentation.
R.W. Brother Grahame provided a pen picture of W. Brother Inglis's fifty years in freemasonry.
W. Brother Inglis McIlwrath was born on 1st June 1941, son of Eric and Nan and brought up in Lower Cairncastle Road (Head of the Town). As a child he attended the Lifebuoy's and Boys Brigade before going to Larne Technical College. On leaving college, Inglis started work in W.H. Kane's where he served his time in General Engineering, before moving onto the AEI/GEC. During his time there, Inglis worked on installing turbines, etc. in power stations. He Joined the Merchant Navy for three (3) years before returning to Kane's to run their Marine Section. Inglis and another partner took over Kane's on the retirement of the then owners.
During his working life Inglis served ten (10) years with the RUC "B" Specials and then joined the Ulster Defence Regiment, for a further fourteen (14) finishing as a Sergeant.
W. Brother Inglis was proposed by his father and seconded by his uncle into freemasonry, both of whom were members of Larne M.L. No.41, until their deaths. Inglis received his Entered Apprentice degree on 04/10/1972, was passed to the degree of Fellowcraft on 03/01/1973 and was raised to the Sublime Degree of Master Mason on 07/03/1973. He became W.M. in 1980 and served the Lodge as both Secretary and Treasurer before becoming Almoner, a position that he embraces to this day.
Inglis still represents the Lodge on the Hall Management Committee and the St. John's Masonic Club Committee. W. Brother McIlwrath started and still helps to run the St. John's Masonic Club Children's Christmas Party, as well as looking after the Lodge Widows for the past nineteen (19) years. He also represents the Lodge at the PGLA Committee of Inspection.
Between Lodge duties W. Brother McIlwrath found the time to marry his very understanding wife Mamie on 28th March 1962.  Inglis has raised four (4) children. Three (3) girls and a boy and now is grandfather to eight (8) grandchildren and three (3) great grandchildren to date.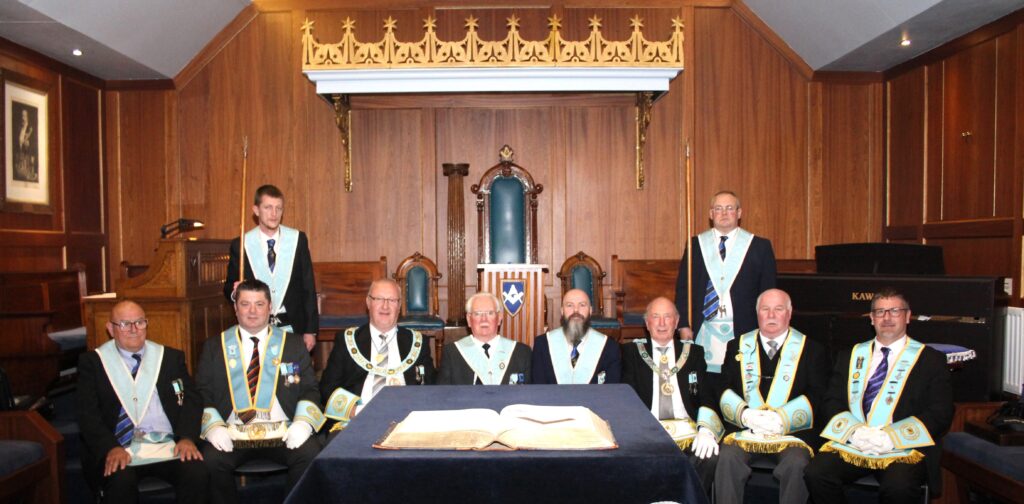 A stalwart of Larne M.L. No.41 and the Larne Masonic Centre, he thoroughly deserves this recognition for his long and continuous service.