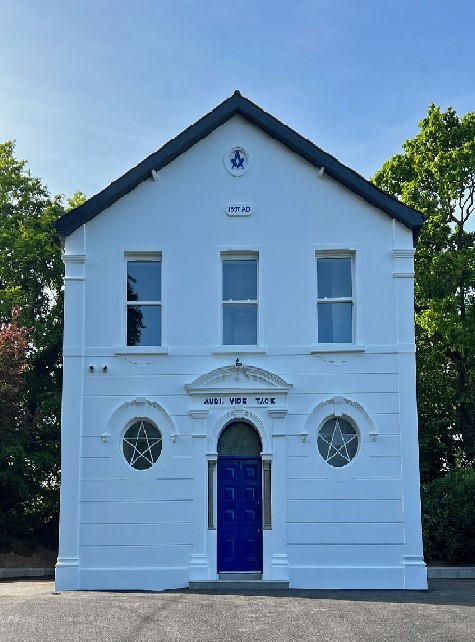 Another busy Masonic morning with the official opening of the New Provincial Grand Lodge of Antrim Offices in Templepatrick.  Our guest of Honour was Most W. Brother Rodney L. McCurley, Grand Master of The Grand Lodge of Ireland, and he was accompanied by R. W. Brother Leslie J. Nixon Assistant Grand Master and R. W. Brother Philip A.J. Daley, Grand Secretary of The Grand Lodge of Ireland.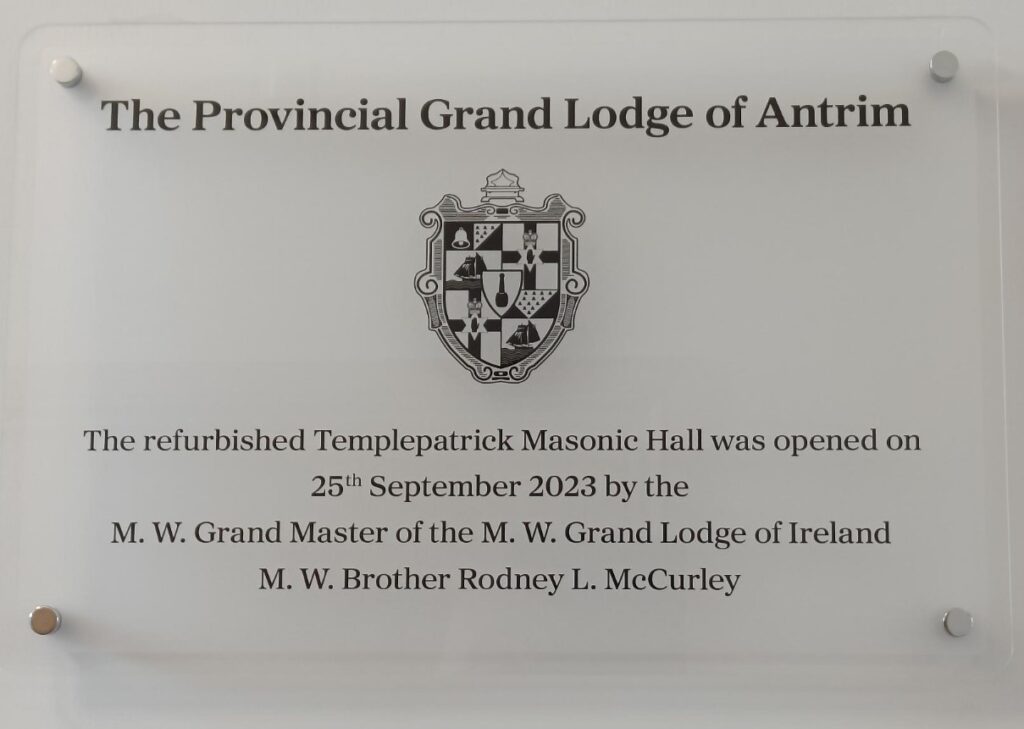 There was a good turnout of Senior Masons present including the Most Eminent and Supreme Grand Master of The Great Priory of Ireland – Robert G. Quigley G.C.T. and our District Grand King of Antrim Most Excellent Companion Jon McA. Pollock.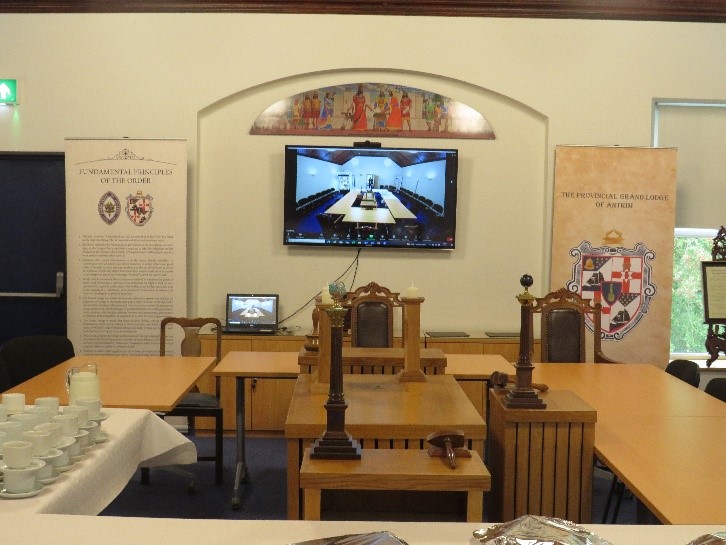 Our hosts on the day included R. W. Brother John S. McLernon, the Provincial Grand Master of Antrim, his Deputy, R. W. Brother John Edens and Provincial Assistant Grand masters', Ivan Gillespie, Samuel Brennan, and George Graham, along with a large number of other Present and Past Officers of the Provincial Grand Lodge of Antrim.
Luckily, around Noon the rain stopped, the sun came out and we were all able to go outside for the official opening of our new headquarters building.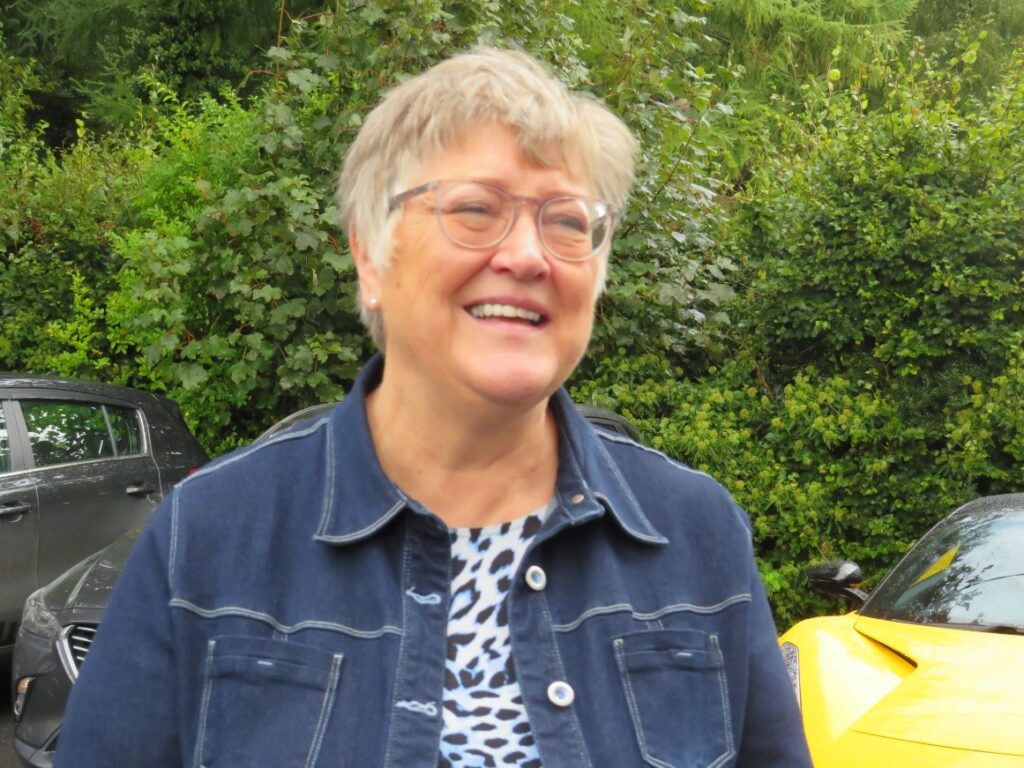 Our Most W. Grand Master, Most W. Brother Rodney L. McCurley, efficiently cut the ribbon, allowing us all to progress into the building. Just inside the door, our Most W. Grand Master had a further duty to perform in the unveiling of the memorial plaque, recording details of today's opening.
Then we all got a look around the new Ground Floor office set-up. the adjacent files room, disabled toilet, small fully-fitted kitchen and then upstairs to the Provincial Grand Secretary's Office and the new Meeting Room/ Lodge Room for occasional use by the lodges within the Province.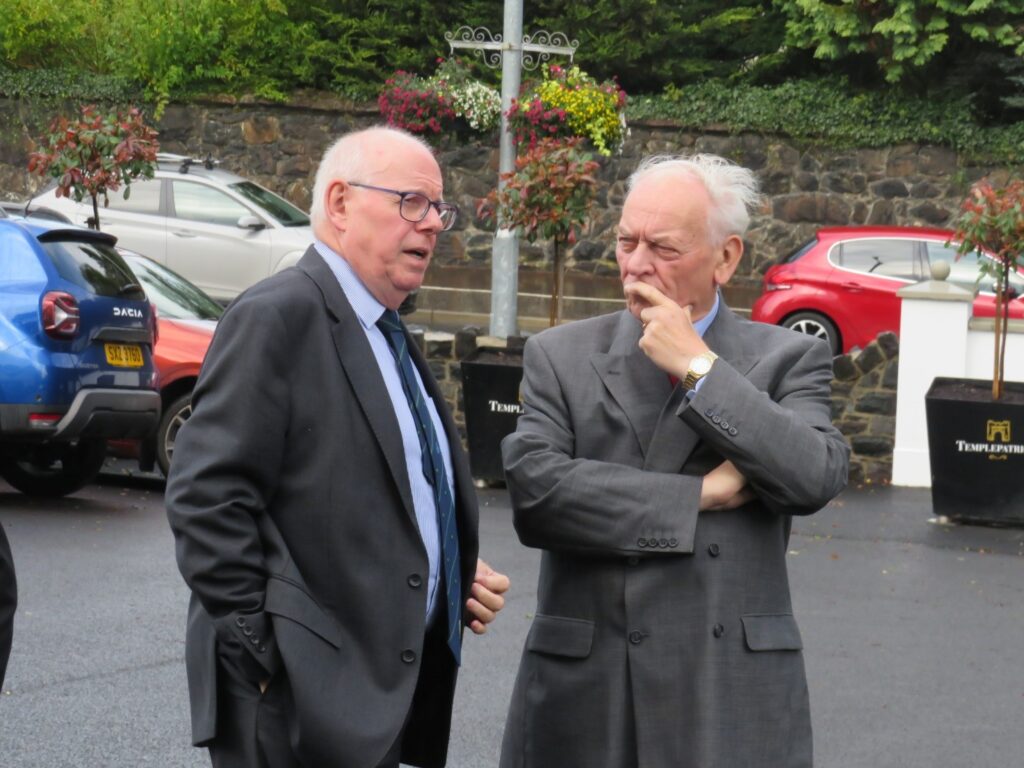 Then we had an opportunity to sit down and enjoy the excellent buffet provided by Iris of Iris's Farmhouse Cuisine and her staff, which was appreciated by all present.
On Friday the 29th September, the premises will be open for inspection, between the hours of 1.00pm and 4,00pm by the community and various organisations based around Templepatrick.
Then on Saturday, there is an open invitation to all the brethren from the Province of Antrim to call in between 1.00pm and 4.00pm and see for themselves how their money has been spent.