District of Cary and Dunluce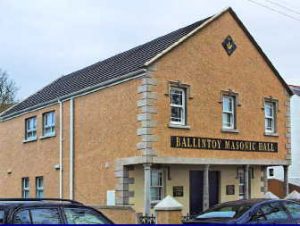 The hall is located at the end of the village on the right when travelling from Bushmills and immediately on the left if travelling from Ballycastle direction. The hall is clearly identified by the name on the front.
Lodges that meet here
38 : Ballintoy
meets 1st Monday in month at 8 pm (7 pm in January) with the exception of the months of June – July – August
Ballintoy, which is now the oldest lodge in Carey and Dunluce. In fact Warrant No. 403 was granted to Ballintoy in 1763. On the 23rd June 1817 it changed Warrants to its current No. 38. The hall itself is one of the first buildings you see as you drive into the village. Situated on the left hand side, it is a granite structure and was built in 1805. It is a two storey building and has been renovated recently. The ground floor consists of an entrance hall, toilets, store room and a kitchen furnished with tables and chairs where the Brethren can have a cup of tea after labour. The Lodge room on the first floor would be considerably less than 700 sq. ft. Items of interest in this room are a display of old silver Officers' jewels,. Five of the jewels in the case were used by the original Lodge No. 403 from 1763 until 1963 and the other five are all that survives from the neighbouring Masonic Lodge No. 146, Lisbelnagroagh, Bushmills which was granted a warrant on the 28th July 1854.
Thanks to Irish Masonic Records v3
Address
2 Main Street
Ballintoy
Ballycastle
BT54 6LX