District of Cary and Dunluce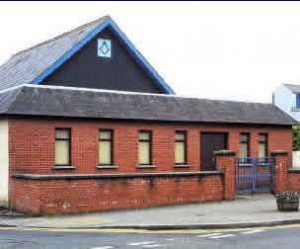 From the square take the road for the Giants Causeway and the hall is a short distance along on the right.
Lodges that meet here
414: Royal Blue
meets each month on the 1st Friday at 7.30 pm with the exception of the months of July – August
Bushmills, where Whiskey has been distilled since 1608 and Masons have practiced their strange rituals since 1764, when the first Warrant No. 414 was granted to the town of Bushmills.
Sir Francis E. MacNaughten donated the site in the centre of the town and the other two Bushmills Lodges, No. 48 and No. 414, then helped raise the balance of funds and the new hall was built. Of these three original Warrants that met in the district, only Bushmills No. 414 still survives.
The hall is a single storey building, although there was once a balcony when the hall was used for concerts and other forms of live entertainment. Indeed it was probably the only Masonic Hall that had its own Band, which was formed from the Members of No. 414 and No. 87 and was known as The Freemasons' Band. This band was finally disbanded by Provincial Grand Lodge of Antrim, who in those days took a very dim view of the whole affair. The hall today is in a very good condition. The interior of the hall consists of an entrance hall, cloakroom, stores, toilets and a lovely little licensed lounge bar, one of only two in the area of Carey and Dunluce. The only other licensed club is in Ballymoney. The Bushmills Lodge room is very tastefully decorated throughout. There is a glass cabinet in the hall with several Masonic jewels, and there are pictures and newspaper cuttings framed on the walls to record important occasions in the history of the lodge. The original silver trowel used in the laying of the foundation stone in 1879 is on display. Thanks to Irish Masonic Records v3
Address
Freemasons' Hall
38 Main Street
Bushmills
BT57  8QA