Randox Antrim Agricultural Show took place in the beautiful grounds of the majestic Shanes Castle Estate, Antrim, on Saturday 22 July 2023.
The show is organised annually by Antrim Agricultural Society, 2023 saw the 115th show take place.
The event offered a fun packed family day out as you walked around seeing the best of rural life.
For animal lovers, there was everything from sheep shearing competitions, a petting zoo and a children's pet show, horse jumping and displays of some of Northern Ireland's finest cattle and sheep.
In the nearby Home Industries marquee there was everything from photography, crafts and floral art, to award-winning fruit, vegetables and baking.
Alongside a raft of stalls and marquees packed with food and crafts, there was some live music, children's amusements, and the eye-catching spectacle of the Co. Antrim Young Farmers Clubs' Games.
A feast of fun was had despite the weather conditions which were much better than we had first thought.
The Provincial Grand Lodge of Antrim for the second year running agreed to place its new Information stand at the heart of the action. This year saw a small change to personnel with four younger masons attending. Brother Caleb McNaul, Brother Jamie Strain Brother Andy Weir and Brother Matthew Gray. They were also assisted by V. W. Brother Derek McKnight, V.W. Brother Stephen Bell, W. Brother Mark Henderson and W. Brother David Martin. This decision was taken on the back of a feedback session after last year's experiences at Ballymoney, Ballymena and Antrim.
The day started off at our new premises in Templepatrick were the stand and all its attachments were loaded into the van. Then transported to what was a quite muddy field and the stand was erected.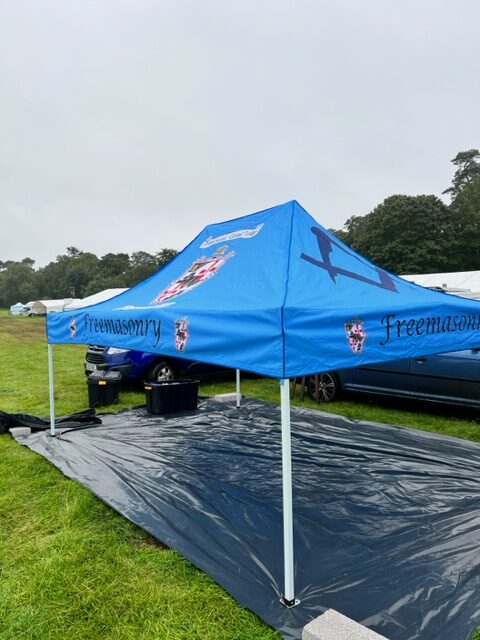 A free competition was held for a Provincial Grand Lodge of Antrim Teddy Bear and the Brethren gave out helium balloons to the children while having some meaningful discussions with their parents.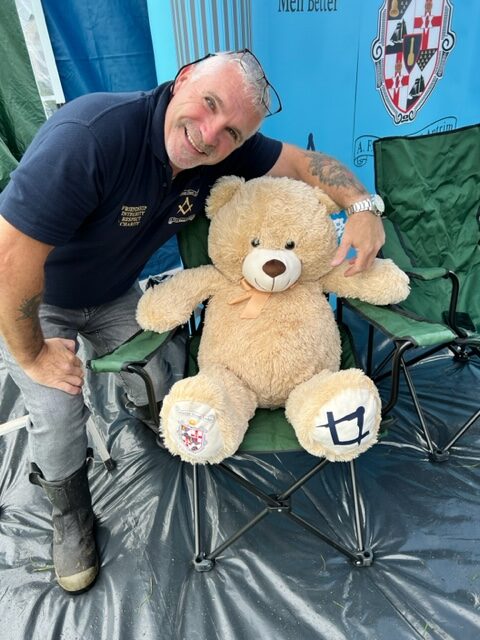 Quite a large number of people passed through the stand some already masons indeed the Province of Londonderry and Donegal seemed to have a high number of Brethren visiting the show and they were very complimentary of the stand and display. A number of myths about our order were dispelled through discussion and indeed a number of young men took pictures of our web address giving an indication they would be visiting our web site for more information. To date two men have put their details forward for consideration to become members as a direct result of these discussions.
At one point it was difficult to see an area of the show where our balloons were not present. This definitely led to visits by other parents and children and led to more discussions about what we as an organisation actually do.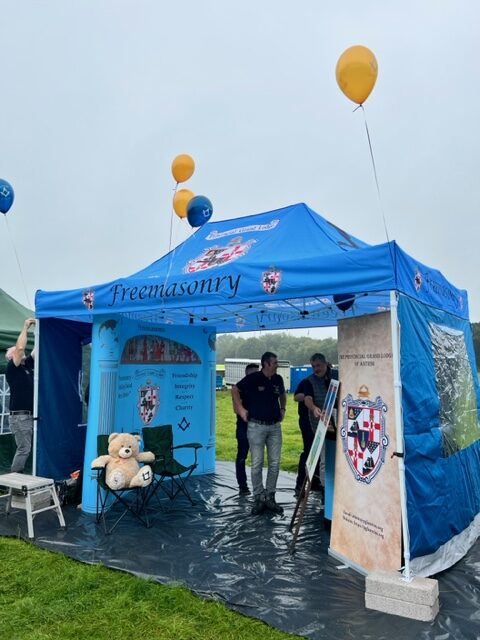 The banner showing the Charities that have been supported by the Brethren was also a great topic for discussion. Most visitors were totally unaware that we supported any local charities.
The weather held out and at 4pm it was decided to draw a winner for our teddy bear competition we are trying to contact the bear's new owner to arrange for it to be re-homed.                                                       
Overall this was a very positive experience for the Brethren and indeed the visitors to the stand. Perceptions of our worthy order have been changed undoubtedly due to our presence and the discussions that were had with those of all ages visiting our stand.