Maghermorne M.L. No.514 Larne, recognised 150 years of dedicated service when the Provincial Grand Master R.W. Brother John McLernon presented three 50-year Jewels and certificates at their Stated Communication on Thursday 17th February 2022.
The recipients of the Jewels were V. Worship Brother Jackie Burns (Posthumously) and Worshipful Brothers Jim Thompson and Sam Morton.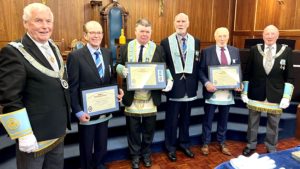 Above L-R
R.W. Brother John McLernon, Provincial Grand Master, W. Brother Jim Thompson, V. W. Brother Stephen Burns, W. Brother Ricky Bell (W.M), W. Brother Sam Morton, R.W. Brother Samuel Brennan, Provincial Assistant Grand Master.
Very Worship Brother William John (Jackie Burns) – Posthumously.
V.W. Brother Jackie Burns was Initiated on 21 May 1970. It soon became apparent that he had an astounding ability for degree work and before reaching the Chair he was lecturing and instructing candidates in each Craft Degree.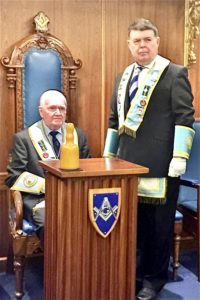 In 1981 he became Worshipful Master, following which he held the Office of Director of Ceremonies. Jackie received Provincial Honours in 1992 when he was elected as a Provincial Grand Steward. A member of the Larne Class of Instruction he became a Provincial Instructor & the Leader of the Class. In 2006 he was Elected as a Member of the Very Worshipful the Grand Lodge of Instruction and 2017 he received Emeritus Membership. A most rare honour indeed.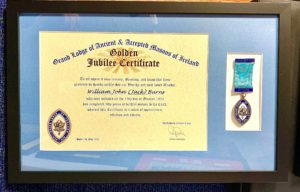 Jackie was also a Past Excellent King and Past Director of Ceremonies of RAC Larne 615 where he was also an Emeritus Member. He was also an Honorary Member of RAC's 45, 260 and 375 and the Chairman of Larne RAC Committee of lnspection, and a Past Excellent Chief of Latharna Council of Knight Masons No. 59, a Past Eminent Preceptor of Latharna Preceptory and a Past Most Wise Sovereign of Antrim Chapter of Prince Masons No. 12.
The fifty-year Jewel was reviewed by his son, Very Worshipful Brother Stephen Burns. Jackie's Masonic career is an inspiration to us all.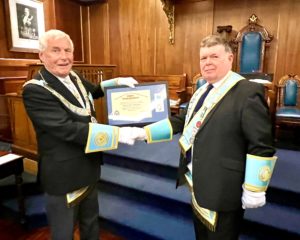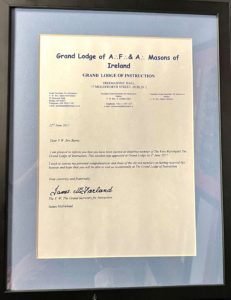 Worshipful Brother Jim Thompson
W. Brother Jim was initiated into Chichester Lodge No.313 (Carrickfergus) in 1973 and was installed as Worshipful Master in 1986 and held the position of Director of Ceremonies for a period.
Due to work commitments, he was unable to get involved in Masonry as much as he would have liked. On his retirement he affiliated to Magheramorne Lodge No.514, due to the influence of his son W. Brother Billy Thompson. He was Worshipful Master of Magheramorne in 2018. Jim is also a member of RAC No.313 and Latharna Preceptory.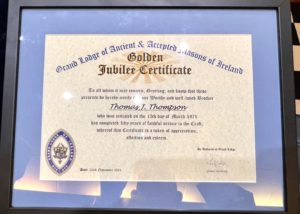 Worshipful Brother Sam Morton
W. Brother Sam Morton was proposed into freemasonry by the late R.W. Bro. Adam McKinley, Past Provincial Grand Master.
He was initiated on the 2nd of December 1971, passed on the 30th of December 1971, and raised on 2nd March 1972.
He was installed as Worshipful Master of Magheramorne in 1983.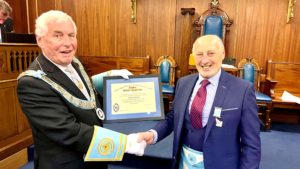 Congratulations to all!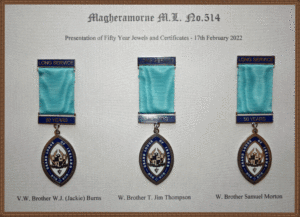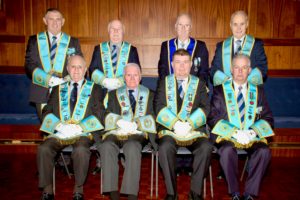 V.W. Brother Stephen Burns pictured with his father V.W. Bro Jackie Burns in 2017.
Also included in the photograph are members of the lodge who had received Provincial Grand Lodge honours are;
W. Brother Tommy Dowds, R.W. Brother J. Russell Millar, R.W. Brother Norman Carmichael, W. Brother Walter Thompson, W. Brother Jackie Neill, V.W. Brother Jackie Burns, V. W. Brother Stephen Burns, W. Brother Billy Thompson