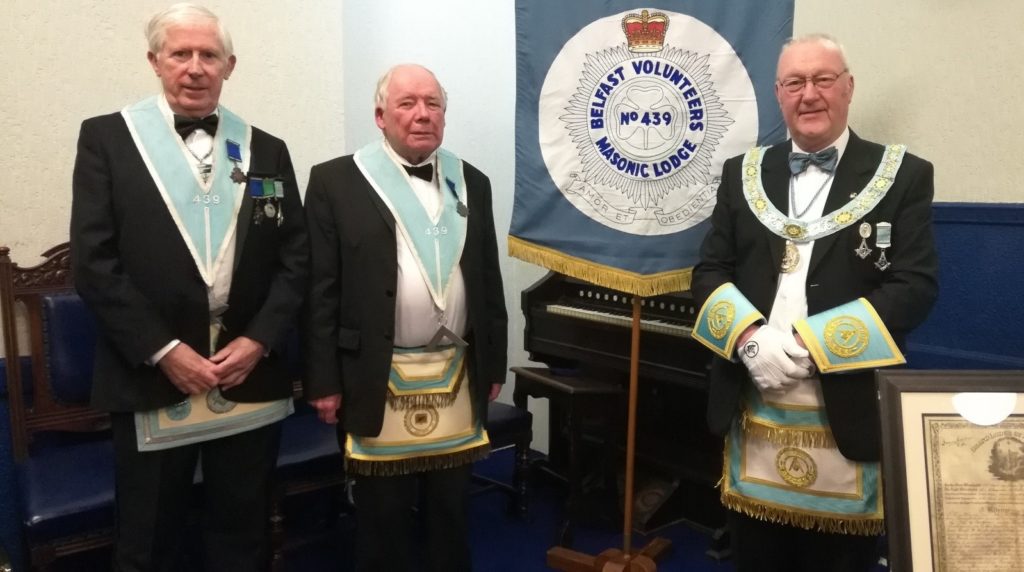 We are opening up. We are connecting again.
Photo shows RW Bro. George Graham with the Immediate Past Master V. Wor. Bro. Mal Ross and the newly installed WM, Wor. Bro. Brian Whitten (middle)
Belfast Volunteers ML No. 439 held its Stated Communication on Friday 11 February.
RW Bro. George Graham, Assistant Provincial Grand Master of Antrim was our Guest of Honour. This was very special evening for RW Bro.George as it was his first visit to Belfast Volunteers Lodge 439 and his first visit to Arthur Square Hall since he was appointed a Provincial Assistant Grand Master.
This was our first stated communication since February 2020 and also our installation communication. A busy evening indeed. Thereafter all the brethren celebrated with an Installation Dinner during which the Lodge presented RW Bro. George with one of our centenary jewels as memento of the evening.