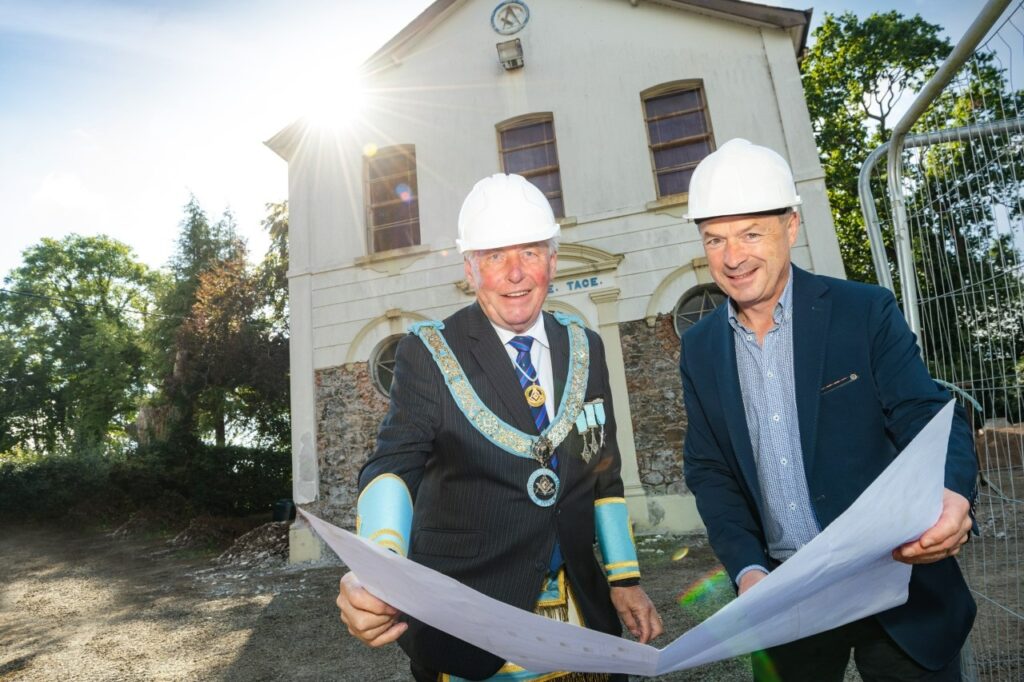 Work has commenced on an exciting refurbishment project which will become home of The Provincial Grand Lodge of Antrim. Based in the village of Templepatrick the new head-quarters will see the old masonic hall brought back to its former glory with an investment of £400k and the promise of an exciting new space for the entire community to benefit from.
With a completion goal of February 2023, the Provincial Grand lodge, with 145 lodges across the province of Antrim, will soon leave their Belfast office and aim to make the new headquarters a bustling space with lots of activities going on as well as the expected masonic meetings and events.
John McLernon, Provincial Grand Master says of the move;
"This is an exciting project for us and one which we have had in the planning stages for quite some time, our decision to move from Belfast will give us more accessible Headquarters, more freedom to host our members and the new HQ will also allow us to create a hub for the community which is very exciting. We are looking forward to working with local community groups to host their events and projects. We're very keen to ensure that it is not a closed building, but an open and welcoming venue that is very much a part of the local community.
"We've received great interest already from a number of organisations who are keen to use the premises, from welfare groups and historical societies to health practitioners and community action groups – there is definitely the desire for a community space in the area and we look forward to being able to provide that space.
"We've consulted closely with neighbouring property owners to gain their support and we are working with Antrim and Newtownabbey Borough council planning department in order to deliver a building that not only beds in with the local area but that is also functional for a number of different uses."
The building was originally constructed in the late 1800's and whilst it is not listed, it is considered by historic monuments and the local planning service as having considerable local architectural and historic importance. Contractor, Wallace Dunlop, J.S Dunlop Ltd who has been awarded the contract to deliver the restoration of the building says;
"Respecting the building's aesthetic importance is of utmost importance to the Provincial Grand Lodge of Antrim and our brief is to completely refurbish and extend this historic building while maintaining and enhancing where possible the building's original features.
"The original stone boundary wall and entrance pillars were demolished some years ago and were replaced with an out of character timber fence. It is the plan to fully reinstate the traditional stone boundary wall and pillars in sympathy with the original design and neighbouring properties."
Freemasonry is one of the most ancient organisations in the world, it's a brotherhood of men which exists for the sole purpose of making good men better and is still very much active in our communities today. In County Antrim alone there are around 4000 Freemasons, made up of 145 lodges. Freemasonry is based on the principles of Friendship, Integrity, Charity and Respect, qualities that remain as important to our world today as they always have done.
To find out more about becoming a Freemason or about the amazing work that they do in their local communities please visit www.pglantrim.org