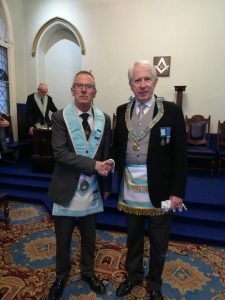 Bro. George Rice,WM of  welcomes V. W.Bro Mal Ross, Grand Lodge Steward of Charities to their recent open day.
Corinthian ML 340 is one of only three  Lodges that meet during the day and is also known as the
"Entertainers' Lodge" as most of its membership was drawn from local Entertainers' ,who were working in the evenings..
Any Bro who is finding it difficult to attend evening meetings or simply want to spend evenings at home for whatever reason, will find a warm welcome here.