An Irish Freemason for 75 years
On Friday, 3rd. May 2019 a band of brothers from Clotworthy Masonic Lodge No. 593, Antrim, descended on the Craigdun Nursing Home, Dunminning Road, Cullybackey.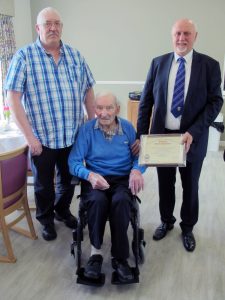 The mission; to meet up with the Provincial Deputy Grand Master of Antrim, R.W. Bro. John Edens and to pay a monumental visit with W.Bro. David McCausland, (Past Provincial Grand Sword Bearer) now resident there.
The reason; W.Bro. David McCausland was to be honoured with having served Freemasonry for 75 years and was to be presented with a beautifully framed Grand Lodge certificate for having done so.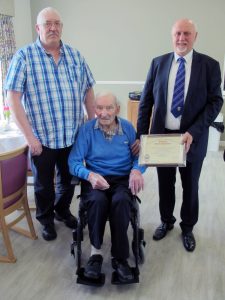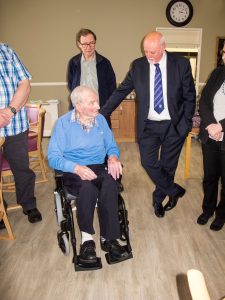 David, in his usual form, had been very explicate that he shouldn't receive his 75 year certificate until properly due on the anniversary, 18th. May but due to illness and failing health, the members of Clotworthy decided to bring this special event forward.
W.Bro. Edgar Allen, Steward of Charities, approached the nursing home manager and asked permission to have a small representation from David's Lodge attend, and, together with R.W.Bro. John Edens and Heather and Ian, David's daughter and son-in-law, we reunited with a very long standing member and brother who reaches the young age of 99 this month.
The Worshipful Master, W.Bro. Stuart Thorne, together with R.W.Bro. Edens congratulated David on reaching this miraculous milestone and presented him with his certificate of achievement. I may add that a bottle of Bushmills whiskey seemed to find its way to the table; and why not.
Appreciation and many thanks must go to the staff of the home who set out tables and refreshments in the dining room where we sat and chatted about old times and brethren who had gone before.
We finally finished with a " cutting of a very special cake" produced for the occasion, and I still don't know if it was the cake or the Whiskey that brought a smile to Worshipful Brother David McCausland's face.
A very fitting finish to a very special day.