The 'Black Santa' tradition at Belfast Cathedral was started more than 41 years ago by Dean Sammy Crooks. The local press described Dean Crooks as Belfast's Black Santa.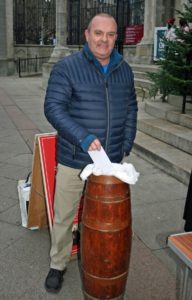 W. Brother David Martin, Provincial Asst. Grand Secretary of Antrim, donates the annual contribution on behalf of Provincial Grand Lodge to the Black Santa Appeal at Belfast Cathedral
All the money gathered is donated to local charities with a proportion given to Christian Aid. The range of charities includes medical research; those caring for children, youth and the elderly; the improvement of employment opportunities for young people and a host of small charities which cannot afford paid fund-raisers. The funds are distributed to charities at the Good Samaritans' Service, held in the Cathedral early in the year following each Sit-out.
The Provincial Grand Lodge of Antrim have supported this very worthy appeal for a number of years. Each year the Province makes a donation on behalf of the Brethren of Antrim.