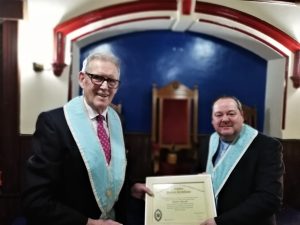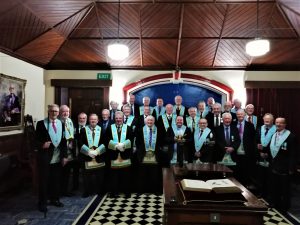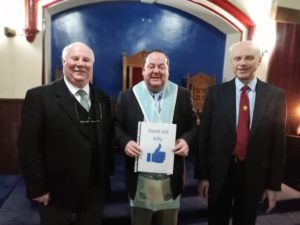 Some group photographs were taken on Saturday 23rd March 2019, at the final meeting
of  St Paul's Masonic Lodge No 160, Templepatrick.
Series six Vol. 21 of the extant Grand Lodge Registers shows:-
Warrant No. 160 to Templepatrick as "St. Paul's Lodge"
Register commences with the registration of Robert J. Gray, Farmer,
registered 3 February, 1953
A total of 116 brethren registered up to 3 April, 1984. In most cases the
dates when the issue of certificates is shown, together with the
occupation of the brother.
The Warrant issued to "St. Paul's Lodge" No. 160, Templepatrick was returned on Saturday 23rd March 2019, to V.W. Brother R. Millar, Provincial Grand Secretary for onward transmission to the Grand Lodge of Ireland.