St Georges Masonic Lodge No 166
On Wednesday 11th December 2019 as our stated communication was just about to be closed, there was an alarm at the door and after having been identified as a Past Master of St Georges 166 and admitted, we all were most delighted to have been visited by W. Bro Ron. Black.
W.Bro Black and his late father Joe Black had been both former members & Worshipful Masters of 166 and most of the Lodge members present last saw Ron some years before when we had the sad duty to attend his father's funeral in Portstewart.
The W.M. W. Brother David King welcomed our guest, as did a number of the brethren present who remembered both Ron and his Dad from their time amongst us and some fond memories were shared.
Bro Black, having been granted permission from the W.M. to approach the dais, proceeded to present the W.M his own St Georges Masonic Tie and also a Past Masters jewel, that had previously been presented to him. He thought it time both jewel and tie were returned to their rightful home in 166, now that he is now a member of a Portstewart Lodge.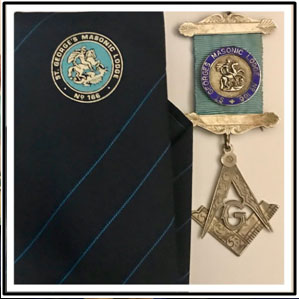 The tie and jewel (right). The jewel was first presented to W. Bro Joseph Wilson Beckwith after serving as W.M. of 166 in 1982.  W. Bro Beckwith had been initiated into Freemasonry and St Georges ML No 166 on 11/2/1970 and remained there until his demise on 9/10/2001.
It was then presented to W. Bro J. Ronald Black after his successful year as W.M in 1999 & 2001.
On behalf of the Lodge the W.M. gratefully accepted both the tie and jewel and thanked W. Black for his kind thought.
V.W. Bro N. King
Sec 166