Provincial Grand Master attends his Mother Lodge
R.W. Brother John Mc Lernon took time out from his busy schedule to attend his Mother Lodge Chatham 152, in his official capacity as Provincial Grand Master.
The Provincial Grand Master was formally received & conducted to the Worshipful Master Colin Smyth, who warmly welcomed him not only as the Provincial Grand Master but as a long serving & dedicated member of the Lodge – a Brother & friend amongst his closest Brethren and friends.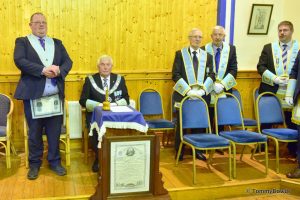 The Provincial Grand Master occupied the Chair and was saluted by the Brethren. The PGM spoke only briefly, his primary purpose to express his gratitude, thanks and sincere appreciation to the Brethren for their unstinting support and loyalty. This was enthusiastically received, as evidenced by the smiles of the gathered Brethren, who responded by rising from their seats and showing their appreciation and support.
R.W. Brother Mc Lernon is the first and only member of Chatham 152 to hold the Office of Provincial Grand Master. However the Lodge does have a record1 of one of its members Worshipful Brother Daniel Mc Kay, achieving the office of Provincial Deputy Grand Master in 1834.
The Warrant 152 was first issued in October 1746, before being reissued to the Brethren of Chatham Hall 152 on the 7thJune 1810, where it has remained in use for 219 years.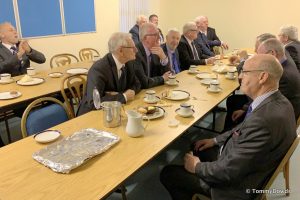 A festive board followed the meeting.