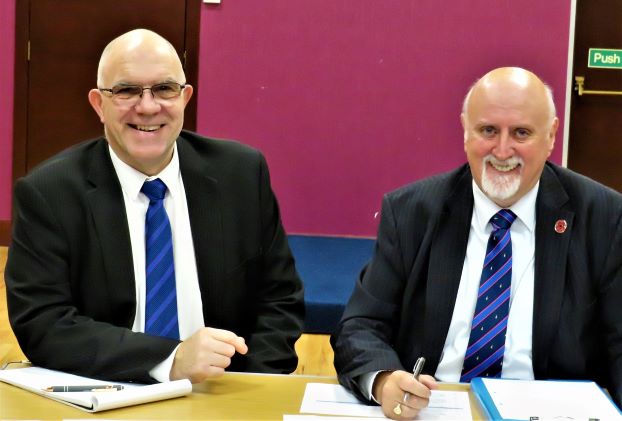 Tonight, in Ballymena, was the fifth meeting held throughout the Masonic Province of Antrim in various Masonic Halls, when Rt Wor Bro John Edens PDGM and Rt Wor Bro Paul Harvey PAGM met with representatives of the various Masonic Lodges based in and around the Hall in question. Tonight, was the turn of Ballymena, when 15 of our local mid and north Antrim Lodges attended to participate. In the last couple of weeks, similar meetings were held in Arthur Square, Lisburn, Whiteabbey and Larne.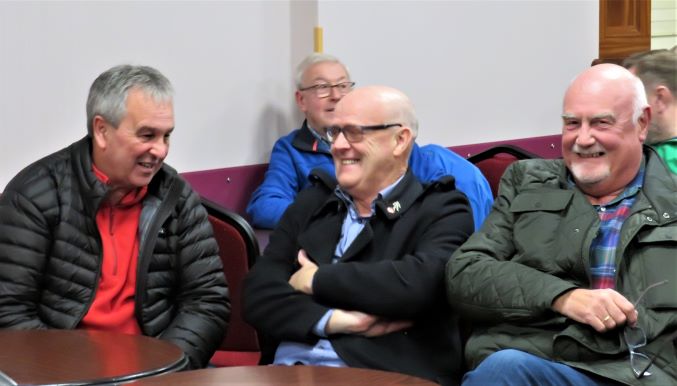 The evening began with a question and answer session to the Lodge representatives present, who, in turn gave us all a picture of their individual lodge membership, average age of their members, attendances at their monthly meetings, new Candidates coming forward, social activities and finally a question as to whether their Lodge was participating in the initiative set up by Provincial Grand Lodge to find new Candidates electronically and then introduce them to Lodges that had similar interests and met on suitable nights.  One interesting nugget that we did learn tonight is that in response to the recent PGL adverts we have, in the last couple of weeks received some 38 expressions of interest  by e-mail from potential future candidates. If your Lodge wants to participate in this scheme, they will need to send an e-mail to our Provincial Secretary confirming that Lodge so and so wished to participate in this electronic membership scheme.
The individual Lodge reports were fascinating, giving us all a useful insight to current day Freemasonry at Lodge level. As these outcomes will be part of a future Provincial Grand lodge report, I will, for the time being, draw a veil over the findings of tonight's exorcise. Suffice to say, Provincial Grand Lodge were very active in their presence tonight with a flying visit from our Provincial Grand Master, enroute to another Masonic engagement and the presence throughout the meeting of Rt Wor Bro Sam Brennon PAGM and Rt Wor Bro George Graham PAGM. As you can see, from the photographs below, the event was well supported by most of our local Lodges and was enjoyed by all present.