A cold winter's Tuesday evening on 17th December 2019, Freemasons throughout Ireland conversed at Crumlin Road Hall, joining Alfreds Masonic Lodge 59 who sit in the hall under the jurisdiction of The Right Worshipful Provincial Grand Lodge of Antrim, to welcome a new member into their order.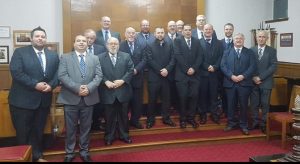 Mr Darren Smyth a 35 year old local man from Belfast has been suffering from an incurable illness for some 7 years, and recently was interviewed by UTV and Belfast Live, talking about his bucket list and what he has achieved as he says for  " people less fortunate than himself", The Worshipful Master Edward Montgomery said Darren will be an asset to the lodge as deeply routed in the order of Freemasonry is it's charitable work and donations, and as Darren has worked tirelessly for Cancer Charities, he said he hoped Darren would work closely with the lodge Steward of Charities Worshipful Brother Eddie Kelly, to best enhance the lodges ability to raise funds for Charity.
This shows said the Worshipful Master, that Freemasons, don't look at your health or your wealth, Darren has shown he has everything that is expected in the order, and despite his illness he is out there like other members of the order, rain,  hail and snow putting Charity ahead of themselves.
If anyone reading would like to enquire further into Freemasonry, they can contact The Provincial Grand Lodge by email on [email protected] or look up their website Provincial Grand of Antrim or contact Alfreds Lodge 59 directly by email on [email protected]  or find the lodge website www.alfredslodge59.co.uk