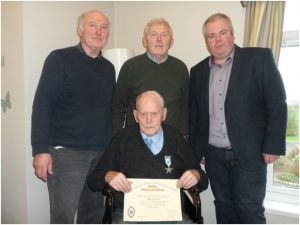 Left/right – W. Bro. Hugh Gordon Sec., W. Bro. Hugh Millar D. C. and W. Bro. Stephen Fullerton W. M.
Presenting W. Bro. John Buick with his 50 year Jewel and Certificate.
W. Bro. Buick now in his 99th year residing in the Bohill Nursing Home, Coleraine was very proud to be receiving his 50 year jewel from the Worshipful Master of Maine Valley 492.