Lodge 96 – Stalwart. Installation of Officers 2022
'It's Good to be Back'
On Saturday 2nd April 2022, Lodge 96 held its Installation of Officers in the Masonic Centre Ballymena.
Last Installation had been on 6th April 2019.
The Officers of the Lodge Distinguished guests and Brethren having assumed their places, the Worshipful Master Willie John McLaughlin offered the Maul to R.W. Brother George Graham, Provincial Deputy Grand Master. R.W. Brother George Graham and invited him to preside.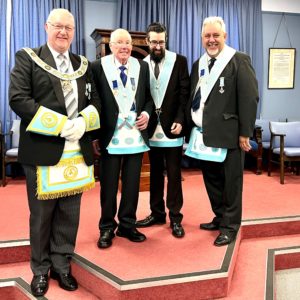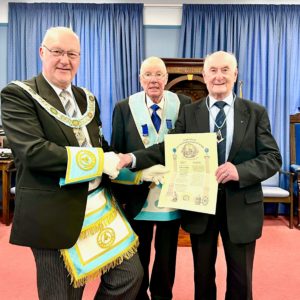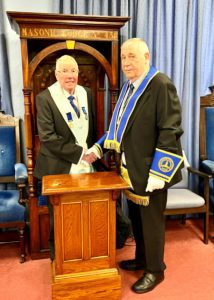 The Worshipful then proceeded to open the Lodge with confidence & all the enthusiasm of the occasion. Having extended a warm welcome to all and salutes to distinguished Brethren, R.W. Brother George Graham occupied the Chair for a short time.
Having returned the Maul to the Worshipful Master the installation of the Officers proceeded. The Worshipful Master invited Worshipful Brother John (Jock) Johnston to install his successor, Worshipful Brother Fergus Jameison. This was again done with exceptional skill in Jock's customary skilled, friendly and relaxed manner. The Worshipful Master Fergus Jamieson installed his officers in a dignified manner with all the confidence of his long years of experience Fergus had previously been Installed in the Chair of Lodge 189 in 1981, and Lodge 60 in 2004.
The Installation was remarkable for the exceptional standard of Ceremony & Ritual displayed by all involved. The Deacons gave an exemplification of how it should be done.
Following the Installation, the Brethren enjoyed a festive board in the Masonic Club, provided by the Worshipful Master. It was the Worshipful Master request for a simple festive board and that the Brethren should support our Masonic charities. The charity collection subsequently raised a fabulous £635
Congratulations to the Worshipful Master, Wardens and Brethren of Stalwart 96.