Brethren, a short note, just to thank Wor Bro Jim McCord and fellow members for a great afternoon at Islandmagee Masonic Hall, in the company of Members, Families and Friends attending their fifth fund raising Charity event since the start of 2019.
Their first Saturday event on the 12th January raised some £ 750.00 for Masonic Charities. This was followed in February 2019 with a live music event that raised some £ 560.00 for the NI Hospice. This cheque was handed over earlier today by Wor Bro William Kane, our second 50 year Mason in Islandmagee, and he made the presentation to Ms Roma Brown and Davina Adair, both there on behalf of the N.I. Hospice.
In March their next event raised £ 675.00 for Teddies for Loving Care. This cheque was handed over by Captain Reg Rendell on behalf of the Lodge to Rt Wor Bro David Penpraze, Representative of The Grand Lodge of Minnesota at the Grand Lodge of Ireland. David, on this instance was there, in his role in the management of Teddies for Loving Care. Reg was selected to hand over this cheque to mark the fact that he has completed 50 years of membership of the Lodge, this year.
A further live music event held on the 12th April raised the stunning amount of £ 3,250.00 for the locally based Hope House, a respite home for terminally ill patients based locally in the Island of Islandmagee. On this occasion Wor Bro Jim McCord made the presentation to Dawn McConnell from Hope House, on behalf of the Lodge.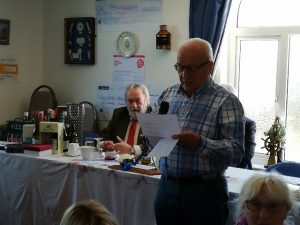 This afternoon, at a well-attended event, they were joined by BBC Correspondent and Sports Commentator – Mr Jim Neilly, who regaled all present with stories from many of the vivid occasions and Sports Events that he reported on, in his time with the BBC. On this occasion the Lodge were raising more money for Leukaemia Research, and raised a further £ 1,000.00 this afternoon.
I can but take my hat off in awe, at the ongoing good works being carried out quietly and with no fuss over the past five months by the Members of St John's 162 Islandmagee and commend all concerned for their hard work and efforts, that to date have raised some £ 6,235.00 for their selected Charities. This however, has only happened due to the continuous hard work of the Officers and Members of St John's 162, who increase their Charity giving on a year by year basis. In 2017 they raised just over £ 6,000.00 and last year gave in excess of £ 7000.00 This year, they are well on course to again beat last year's total.
And for the rest of us, we have an opportunity to join with our Brethren in Islandmagee at 7.00PM on Saturday the 29th June 2019 when their will be a Lodge barbeque and ballot. Tickets, on this occasion will be £ 10.00 per head and proceeds will be divided between Lodge Funds and the N.I. Air Ambulance. It will also give you all the opportunity, to see the many Masonic artefacts carefully preserved by this Lodge in their magnificent Hall..