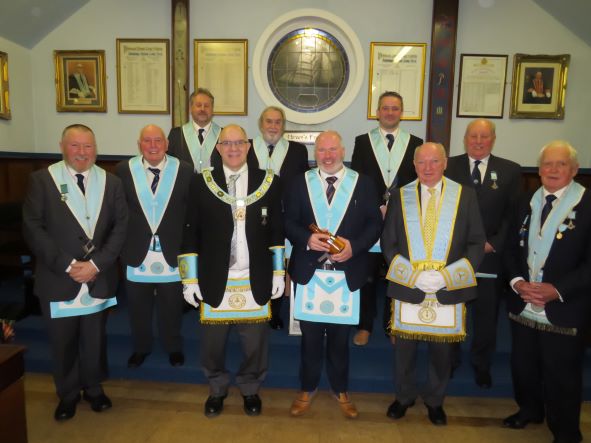 Brethren yesterday afternoon, set off for the long drive to 126 Brown's Bay Road, Islandmagee, Co Antrim to attend the annual installation of St John's Lodge No 162 I.C., one of the older County Antrim Lodges, tracing their Constitution back to 1813. There were 51 Brethren present including Rt Wor Bro Paul Harvey, Provincial Assistant Grand Master of Antrim.
The Lodge opened promptly at 5.00PM under the guidance of Wor Bro Ian Kelly, who was coming round to the end of his three year stint as Lodge Master. After the Lodge opening and salutes to various dignitaries present, Rt Wor Bro Harvey was admitted, saluted and presented with the Maul, which he used to deal with a very comprehensive set of Minutes presented by Wor Bro Graeme Ferguson the Lodge Secretary. Here we learned that the Lodge had collected some £ 4,273.00 for various charities including £ 1,500 for Hope House Ireland, the local cancer respite centre located down in Browns Bay, Islandmagee. They also donated some £ 750 to the Lodge Widows appeal, £ 605.00 to the Ukrainian Lodge appeal, £ 300 to The Belfast Widows Fund, £ 250.00 to the PGM's appeal and various  sums to other local non-masonic charities. Considering this is a small Lodge located in the middle of the Island in Islandmagee, these financial efforts are highly commendable to the Lodge and its membership.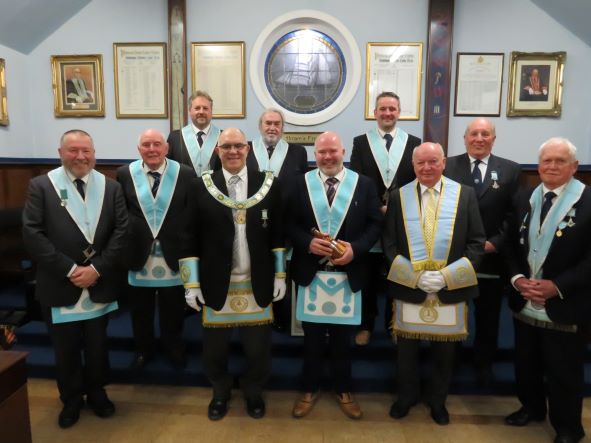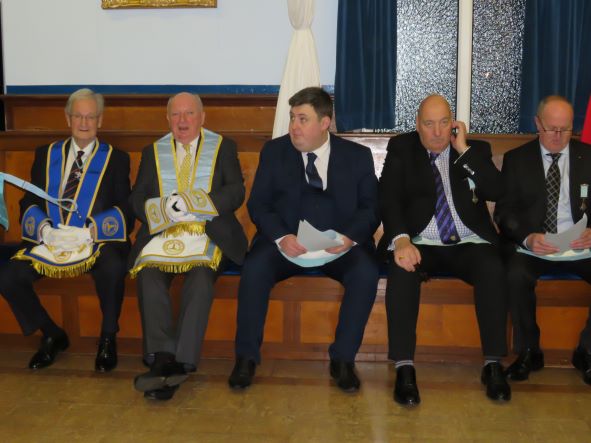 Wor Bro Kelly resumed his office, thanked the Lodge Officers and Members for their support over his term of office and then invited Rt Wor Bro John Peoples, to take the Chair and install Wor Bro Ross Hawkins, as Master for the year 2023 -24.
Ross of course, is the well-known proprietor of The Rinka Ice Cream parlour, a family business, based at 55 Middle Road, Islandmagee with some 70 years of history in the ice cream business, since its beginnings in the 20th century. Unusually Ross is still the Master of Redhall Lodge No 260 Ballycarry, as he too completes his 3 year stint as Master of that Lodge. And as icing on the cake in 2022 he won a national award for the best ice-cream in the UK. As John Peoples Installed Ross back in 2019 into the Redhall chair, he was able to install him once again in an efficient, well set out and interesting manner, which held the attention of all qualified to be present.
Ross then competently and efficiently install his Officers and conducted the remainder of the Lodge business, before closing the Lodge at 7.30PM. Amongst his duties was a collection of some £ 160.00 to be added to their Lodge Widows funds. After the Lodge progressed out, and a few photographs were taken. We then returned to the ground floor function room where we enjoyed a marvellous roast beef dinner. Wor Bro Jim Kelso, once again entertained us on the piano and when our charity collection was lifted some £ 630.00 was contributed to our Masonic charities. And as always, at 10.00PM Wor Bro Paddy McDonald rang the 8 bells and called the toast to absent Brethren. For a Lodge with a great tradition of merchant marine and naval officers and sailors, this toast keeps alive the tradition of our coastal Lodges having their members at sea, all around the globe.
All in All Brethren, it was an enjoyable and memorable day in the company of some excellent Masons from Islandmagee, Ballycarry, Straid, Larne, Ballyclare and Carrickfergus. And should you ever get an opportunity to visit down in 162 St John's, I would have no hesitation in encouraging you all to go along.