PGL Antrim – Stated Communication 25th February 2023.
'Good Food, Good Company & Good Fellowship'.
Such was the praise given by the Provincial Grand Chaplain RW Brother James Mc Clurg, and indeed the delight of meeting old friends & Brethren was clearly displayed in the abundance of smiles & laughs, handshakes and even hugs!
 The Installation of Officers is perhaps the most important day in the calendar of any lodge, and this is no less so for of Provincial Grand Lodge of Antrim. The Provincial Grand Directors of Ceremonies and Stewards had been busy from early morning ensuring that everything was in readiness.   
The Provincial Grand Master R.W. Brother J. Mc Lernon opened the meeting & welcomed the many Brethren who filled the Grand Hall of the Kingfisher Country Estate at Templepatrick. A fabulous & suitable venue & location.
The Grand Master, Most Worshipful Brother Douglas T. Grey was formally received, warmly welcomed, and invited to preside. In his brief address he thanked all Brethren for their support, noting the overwhelming generosity shown for the Grand Masters Festival – Vision 20/20 – 23, which had raised over €500,000, with donations being made to Simon Community North & South, The RNLI and to Médecins Sans Frontières. Additionally the Brethren had also raised a further €77,000 for the Ukraine appeal.
Having returned the Maul, the Provincial Grand Master welcomed Brethren from near and far. Many Provinces were well represented with representatives and dignitaries from the Province of Down, North & South Connaught, The Midland Counties, Londonderry & Donegal, Tyrone & Fermanagh, and the Metropolitan Area
 Many present and past Officers were also present together with many representatives of Foreign Grand Lodges and The Grand Secretary of Instruction.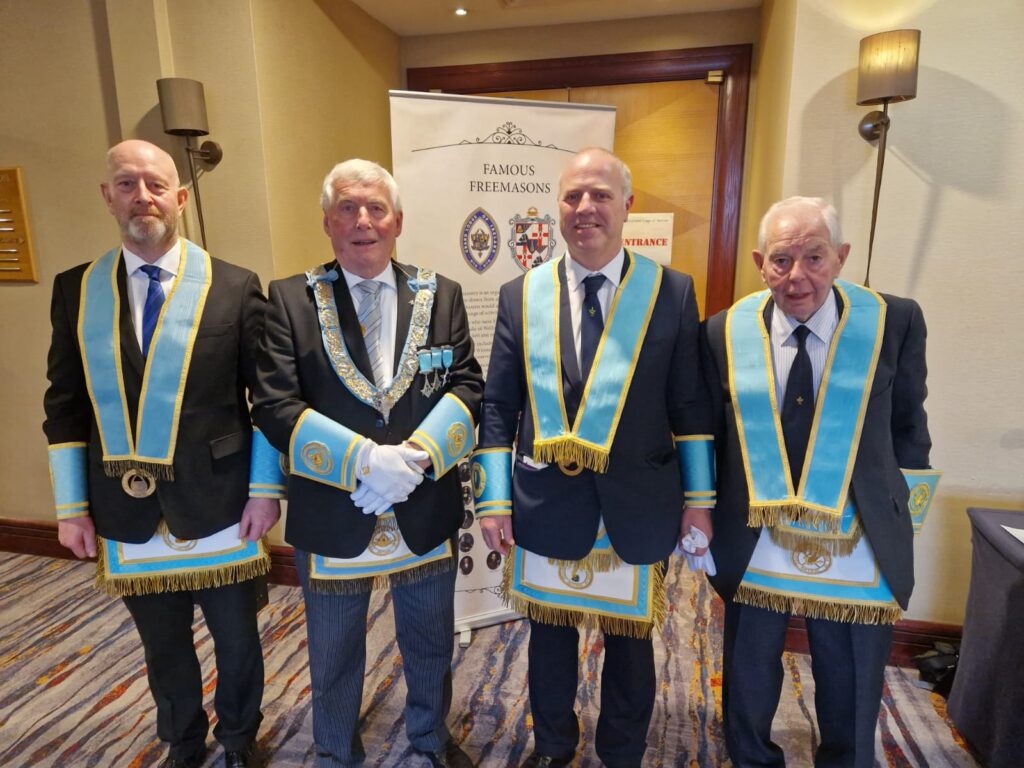 The main business of the day was the Installation of the Officers for 2023. The PGM had the Directors of Ceremonies present the Officers, which this was done with great skill characteristic of the high standard of ceremony for which the team of DoC's is renowned. In turn each of the incoming Provincial Grand Officers were proclaimed, following which certificates of past rank were presented. V.W. Bro. R. Curry was Invested as Director of Ceremonies, and was immediately engaged in carrying out his new role, which he did so with great skill and bearing, characteristic of the team.
 The Provincial Grand Master thanked all Brethren, and particularly mentioned RW Brother Desy McCormick, for his long service as Provincial Director of Ceremonies
 Congratulations to all concerned.
W. Brother Tommy Dowds