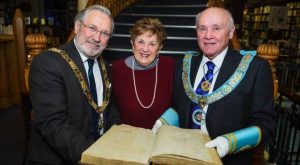 Olivia Nash with Most Worshipful Grand Master of Ireland Douglas Grey and Right Worshipful Provincial Grand Master of Antrim John Dickson at the Linen Hall Library.
Freemasons paying for a schoolgirl to travel to Rome to sing for the Pope is not something that many people would expect – but that is one example of the support the local masonic lodge has given over the years to actress Olivia Nash and her family.
Catholic Olivia's husband Bill Marcus was a mason, and when he died suddenly from an aneurysm Olivia, who at that time worked in health and social services, was left to bring up their only child Patricia, who was 10.
It was a very difficult time, both emotionally and financially for Olivia, then a widow in her late 30s.
"I knew nothing about my husband's work with the Masonic Order. He was the almoner of his lodge – the man who gave out charitable donations from the organisation – but that was something I only learned later.
"Within days, it might even have been hours, of his death someone from his lodge contacted us. Obviously, the money offered to us was essential, but the friendliness and family feeling, you just felt totally enveloped and that everything was going to be safe and all right, in as much as it could be."
It was not just a one-off offer of assistance. The family were given money to assist with Patricia's school fees, uniform and a school trip, all paid for out of the Masons' boys and girls fund. Patricia said: "I got to go to Austria on a music trip because of the money given to us. That would not have happened otherwise."
When she went to university her fees were again paid for until she graduated and began working as a teacher.
Later, the Masonic Order stepped in again when members learned that one of Patricia's three children had a chronic illness. Patricia explained: "This put a tremendous strain on my family and when I was asked if I would accept financial aid to care for my daughter, I gladly accepted.
"However, the order does not just support one person, but all the family. We were given money to buy my son a laptop when he went to university and that was a tremendous help.
"It is an irony that my daughter Livie, who is now 14, had a school trip to Rome paid for last year. She is in the school choir and they were singing in various churches, including at a papal audience. So the Masonic Order paid for my daughter to sing for the Pope."
Both are keen to express their gratitude to the organisation for its assistance over the years. Patricia said: "It is essentially my father's legacy. Yes, the money was important, but it was also the legacy of fellowship that really mattered. We didn't know what my father did when he went out on a Tuesday night with his little suitcase, but it was as a result of his membership that we were able to enjoy the life that he would have wanted us to have. That is the real legacy we received."
Olivia added: "All those years after his death in 1984, my husband is still providing for us in his own way as a result of his membership and I am very grateful to the order for their assistance to me and my daughter."
Both women attended the launch of a new pop-up museum at the Linen Hall Library, where the masonic lodge from Antrim is celebrating 150 years of Freemasonry in Ireland.
There are some 5,000 masons in Antrim, 30,000 across Ireland and six million worldwide. It is said to be the second largest charitable organisation in the UK after the National Lottery Fund, with more than £33m raised last year.
It is a non-religious, non-political organisation and past members have included motorcyclist Joey Dunlop, Charles Lanyon, who designed Belfast Castle, the Lanyon building at Queen's University and the Palm House in Botanic Gardens, golfer Arnold Palmer and comedian and game show host Bob Monkhouse.
The pop-up museum, which includes the history and artefacts of the order, runs at the library until November 30.
See the full article by right clicking on the link below.
https://www.belfasttelegraph.co.uk/news/northern-ireland/give-my-head-peace-star-reveals-how-the-support-of-masons-got-her-family-through-difficult-times-after-her-husband-died-37486970.html