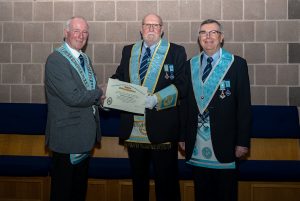 W.Bro. Bill Patterson, accompanied W.Bro. Jim Porter, being congratulated by the Worshipful Master, W.Bro. Lee Burnside on receiving his 50-year Jewel and Certificate.  ​
He entered Freemasonry on 31/12/1969, when he received his E.A Degree; his FC Degree followed on 28/01/1970 & finally his MM Degree on 25/03/1970. All 3 Degrees were delivered by W.Bro. Tom Williams. ​
Thirteen years later in 1982, Bill was Worshipful Master of 180 and then when W.Bro. Tommy Doherty retired after 37 years, he became the Lodge Secretary, from 1983 to 1993, retiring himself, with the then 10-year rule. ​
At this time – 1983 to 1993, Bill was also sitting on the Whiteabbey Masonic Hall Committee, first as a Representative of the Lodge; then as Secretary and finally as Chairman. He was also appointed Chairman of the Steering Committee for the amalgamation with Brookville Masonic, leading to the new Whiteabbey Masonic Centre, which was opened in 1987. ​
A much-deserved recognition followed as Bill was elected to PGL in 1995 as a Provincial Grand Steward.
Bill also served as a Director of Brookville Masonic Hall Co. Ltd for 25 years retiring in 2017. ​
An important point to note Brethren, is that during his first 25 years as a Mason Bill never missed a Stated or Emergency Communication & had a 100% attendance record.