A great night was had at our Annual Closing Meeting at Moyarget Masonic Lodge No 280. Our official guest on the evening was R.W. Brother George Graham, one of our Provincial Assistant Grand Masters of the R.W. Provincial Grand Lodge of Antrim.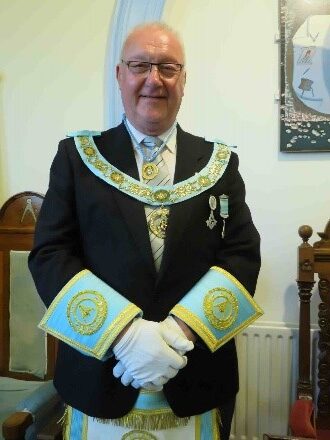 The Hall was full to capacity with a large turnout of members and guests, all there to support one of our members, who would be presented with a 50-year jewel later in the proceedings.
It was a glorious sunny and warm evening with visitors from across the Masonic Province of Antrim.
Under the direction of our Worshipful Master, W. Brother Leonard Quigg and our Director of Ceremonies, W. Brother Thomas Christie. The Lodge opened promptly at 8.00pm and works got underway.
Our Secretary, W. Brother Harold Kerr, read the circular, and those of our guests who were representing Grand Lodge, Foreign Grand Lodges and Provincial Grand Lodges were welcomed and saluted. And so, the evening progressed with all the usual business of a Lodge.
Then we came to the main part of the evening. The presentation of a 50-year service jewel and certificate to R.W. Brother George Baker, the Representative of The Grand Lodge of Bosnia & Herzegovina at the Grand Lodge of Ireland.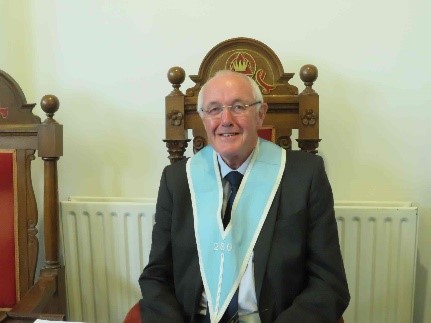 After a short career in the merchant navy R.W. Brother George returned to the family business at "The Drones", and in 1973 became a member of Moyarget Masonic Lodge No.280.
He was in the chair in 1981 and went on to a very successful Masonic career, in time joining Ballycastle Royal Arch Chapter, Ballymoney and Glencloy Councils of Knight Masons, Rathmore Preceptory and Dunluce Chapter of Prince Masons.  He has served as Lodge Secretary in Moyarget for two separate periods and served as a Steward in The Provincial Grand Lodge of Antrim.  And of course, last night he was surrounded and supported by his many Masonic friends throughout the Province of Antrim.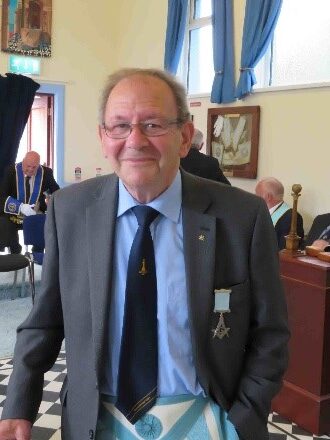 After the Lodge closed, we went on to enjoy an excellent festive board in the Hall.  We learned that the recent Cary & Dunluce Masonic Service in Ballymoney lifted some £1,150.00 to date, their largest collection in recent years.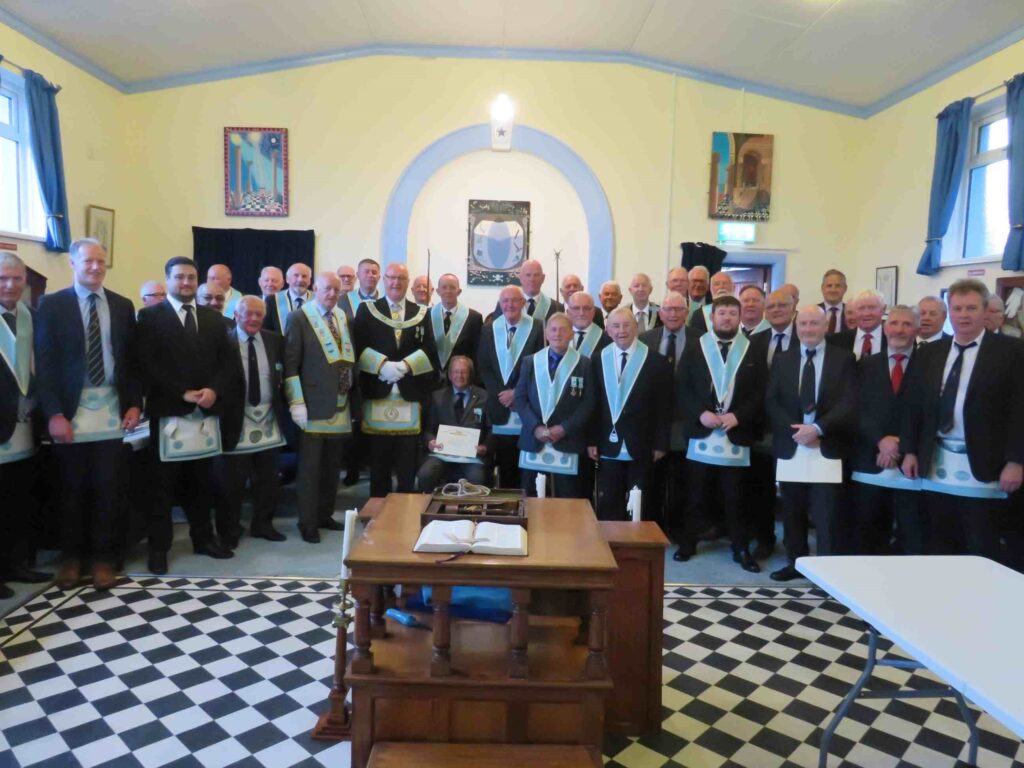 Then our Steward of Charities, W. Brother Martin McLean organised the Charity Ballot to raise funds for our Lodge Widows at Christmas. There was a wealth of prizes on offer and all present spent an enjoyable time collecting prizes from the Ballot.
Article provided by R.W. Brother Robert Bashford
Tuesday 13th June 2023