On Saturday 14 December 2019, members of Cary & Dunluce MCC met at Magheraboy Hotel Portrush to hand over two cheques following a charity breakfast event held at the same venue at the beginning of November.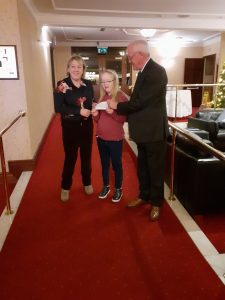 The cheques were presented to Causeway Downs Syndrome and to Air Ambulance. Mrs Gault received the Downs Syndrome cheque and Michelle McDaid received the cheque on behalf of Air Ambulance. Rt W Bro George Graham, PAGM, also was in attendance on behalf of Prov Grand Lodge of Antrim.
W Bro Leonard Quigg handed the cheque over to Mrs Gault's daughter.