Like many others I have been intrigued by the unnamed portrait of a freemason that hangs in Arthur Square Masonic Hall and recently I decided to research the painting to identify the Brother depicted.
I was also inspired by the following words of the well known song: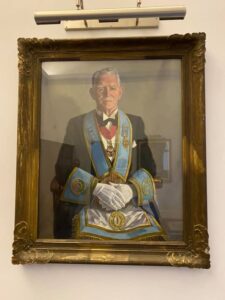 "Are you a stranger without even a name forever enshrined behind some old glass pane"
On examining the painting, I was able to gather some clues from his hair style in that it appeared modern but dated. Further clues were gathered from the regalia he was wearing and the large jewel around his neck. The major clue was that, like most paintings, the portrait is signed "R Taylor Carson" and dated "1948". A noted artist from Belfast.
With this information I contacted Rebecca, our Archivist and Curator at Grand Lodge who was most helpful and she was able to confirm that the portrait is of Richard M. Heaney, an engineer by profession, who was a Past Provincial Junior Grand Warden in 1948.
The portrait was presented to him by the Provincial Grand Master of Antrim in 1948 at the time of the golden jubilee of his mother Lodge, Richard Irvine No. 255, and of his initiation. He was the first initiate of the Lodge in 1898. The excerpt below is part of the P.G.L. Antrim Report in the Grand Lodge Annual Report of 1948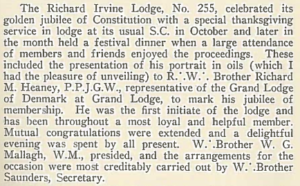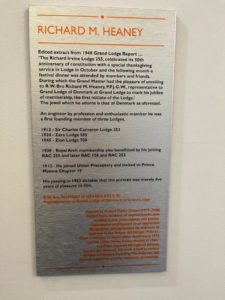 The Trustees of Arthur Square have commissioned a plaque which will now sit alongside his portrait
Article by R.W. Brother Mal Ross