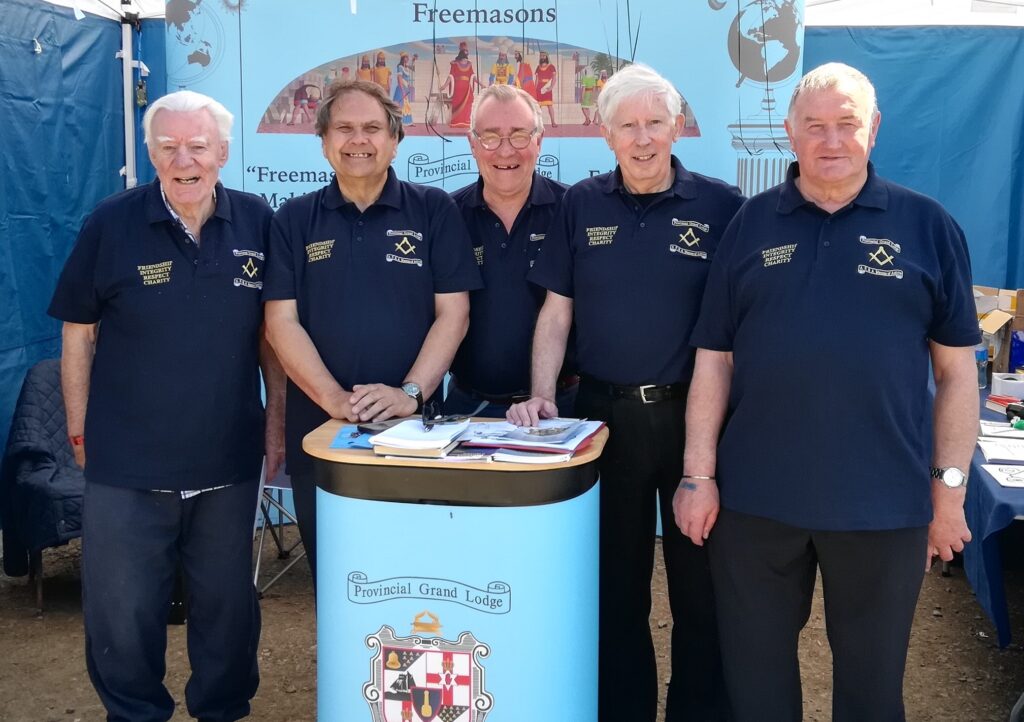 With its 'secret' hand-shakes and unusual rituals, there has always been an air of mystery around Freemasonry, but that's slowly starting to become a thing of the past…
The Provincial Grand Lodge of Antrim, which has over 5,000 members, has been on a quest to dispel some of the mystery surrounding the Masons and attract younger members from all walks of life.
And this weekend, they 'set out their stall' at one of the most popular events in the agricultural and family calendar, the Ballymoney Show, to a great reception and support from the local public.
"We were absolutely delighted with the warm and welcoming reception we received at the Ballymoney Show.", John McLernon, the Provincial Grand Master of the Provincial Grand Lodge of Antrim, explained.
"My Fellow Freemasons and I are very proud to represent the PGL of Antrim, to have this opportunity to help explain who we are, what we stand for, and how others can get involved.
"This was the first in a series of three shows which we will support over the summer months. Next week will see us attend Ballymena and subsequently the Antrim show in July.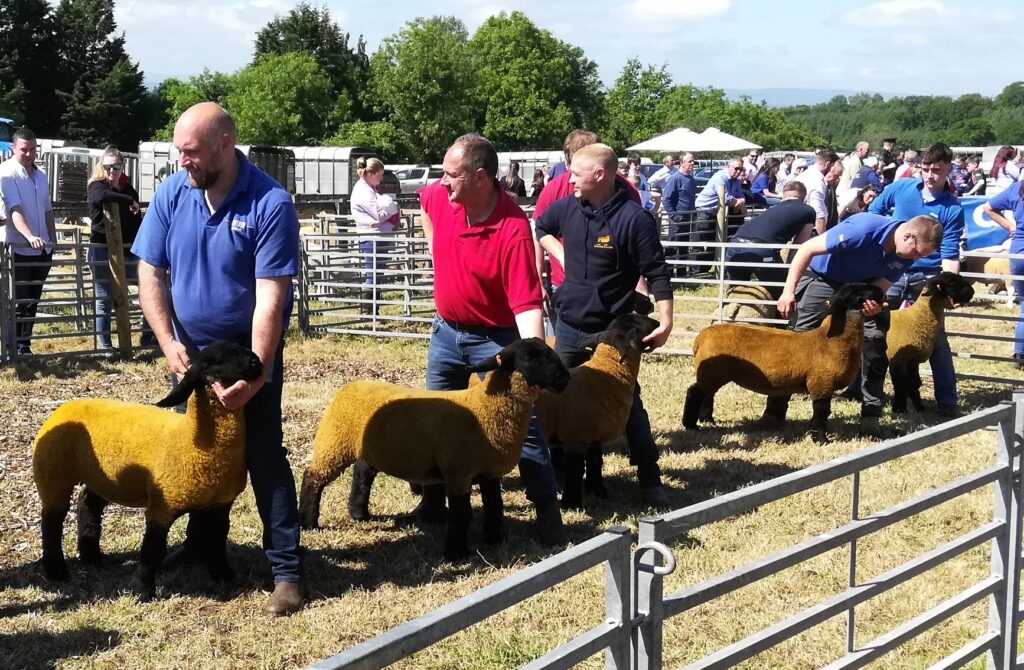 "We are an organisation with a rich history and an over-arching mission to help 'Make Good Men Better' – we have no secrets, just fellowship, camaraderie, and indeed, discretion in some parts, just like any club or society has.
"It is my intent to encourage more people to come and talk to us, to break down any preconceived barriers, and to help find out what it really means to be a Freemason and to see that this is an organisation with a strong, modern future and one to be very much embraced.
"We are an ancient organisation but one that is still incredibly relevant today. There are 30,000 Freemasons across Ireland, and six million worldwide.
"In times of such uncertainty in the world we require all Freemasons to treat each other with respect regardless of class, creed, colour or race. We are non-sectarian and non-political, and it is always at the forefront of our minds to help those who are less fortunate than ourselves.
"What many people don't know is we are one of the largest charitable givers in the United Kingdom, contributing £51.1m to many different deserving causes in 2020 alone.
"In fact, Freemasons do not only donate money – more than 18.5 million hours of volunteer work is undertaken by our members in their communities every year.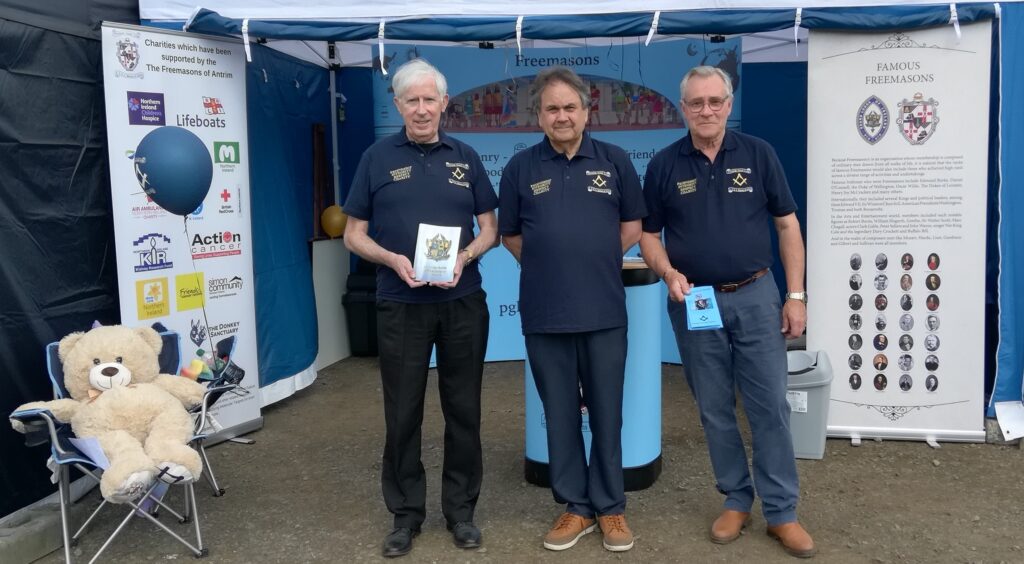 "Throughout Covid, our Freemasons were very active in their local communities, getting involved in visiting the older members who were isolated or lonely, delivering groceries and medicines to those isolating and raising funds for people who found themselves unable to meet the cost of living.
"Within the PGL of Antrim we have supported the Air Ambulance, Marie Curie, Northern Ireland Children's Hospice, Age NI, the RNLI to smaller charities such as the Donkey Sanctuary and the Cystic Fibrosis Foundation and our own Masonic Charities.
"We would describe ourselves as the 'Grown-Up Gang' – a club or a society, with a very diverse range of men, from all walks of life, all backgrounds, ethnicities, religions and races with an overarching mission of doing good in the world. We celebrate our similarities and our differences and are proud of our wide range of interests within different Lodges. For example, some Lodges are known for different interests such as sports like snooker, football, darts, some are more into history, a few have a strong motorcycles fraternity, and others are known for fishing, classic cars etc.
"When a new member expresses an interest to join us, we do our best to advise them on the best lodge for their individual hobbies.
"We meet regularly and have formed many life-long friendships in the process. We have regular social events, charity fundraisers and are very active in local towns across Antrim.
"We simply want more men to understand the friendship and support that is on offer as a Freemason which we have been so fortunate to receive from over the years and to dispel any myths that exist.
"As we exhibited at the Show, we met many fellow Freemasons, their families and some new faces that expressed an interest to know more about our organisation.
"We had a strong representation of Freemasons from [insert name and lodge] to [insert name and lodge] who volunteered across the two days of the show.
"They all enjoyed the sunshine, the craic and an opportunity to share our story.
"Our future lies in opening the doors and letting others know what we do and how welcome they are to consider joining us.
"There was such a fantastic atmosphere across the two days and it was super to feel a real part of the community again after two very hard years of Covid.
"We were keen to ensure that our stand was informative, welcoming and open to anyone with a keen interest in hearing more about who we are.
"Lots of balloons were given to children, information leaflets handed out, merchandise in the form of pens were distributed and on occasions exchanged with fellow stands.
"We are looking forward to our next two shows; the Ballymena Agriculture Show on 18 and 19 June the Antrim Agriculture Show on 23 July 2022.
John McLernon concluded: "We welcome everyone to visit our stand and to enjoy a great day out."