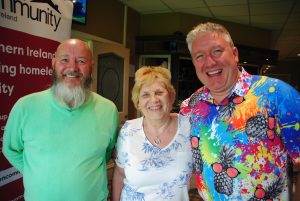 THE GRAND MASTER'S FESTIVAL BENEFITS FROM MASONIC GOLF COMPETITION
The 20th Annual Grand Master's Millennium Cup competition organised by the Freemasons of Ireland Golfing Society was held at the Killymoon Golf Club, Cookstown on Friday 23rd August 2019. Once again, this popular competition continues to attract growing numbers of Masons, Non-Masons and Ladies from all over Ireland, England. The weather was excellent for golf, and with a magnificent array of prizes to the value of £2,000, 150 competitors enjoyed the pleasant conditions and returned some excellent scores. The overall winner was Stanley Jelly, of Union Lodge No.105 (Masonic Province of Armagh), with 39 Stableford points. The team prize was won by Michael O'Loan and David Laverty representing Coleraine Masonic Lodge No.716 in the Province of Londonderry and Donegal with a combined score of 71. Ladies prizes were won by Shilin Byers and Joyce Thompson. Non-Mason's prizes were won by Nigel Flanaghan, Billy Gillis, and Garry Monteith. The day concluded with a great evening of entertainment and prize-giving, well attended by approximately 100 people which included the Deputy Grand Master, and Provincial Grand Masters and Officers from the Northern Provinces together with their Partners, also Distinguished Guests from Great Priory and Provincial Priory.
The prizes were presented by the Deputy Grand Master, RW Bro. Rodney McCurley. Tributes were paid to the organisers of the event, R.W.Bro. Noel Simpson and his wife, Pauline, and the organising Committee. The Grand Master's Millennium Cup began in the Millennium year and open to Masons, Non-Masons and Ladies, any money raised would be divided equally between Masonic Charities and outside charities. As this is the 20th year of the Competition it was decided to donate all money raised to the Grand Master's Festival "Vision 2020″, ″, supporting RNLI, Médecins Sans Frontières (MSF), Simon Communities of Ireland and Simon Community NI.
A cheque for £10,000 was presented to RW Bro. Rodney McCurley Deputy Grand Master,
In the past 20 years we have had visitors from Ireland North and South, England, Scotland, USA, Germany and Finland.
The competition has raised in excess of £140,000 in aid of Masonic and non-Masonic charities
The Committee would especially thank The Captain, President, Council and Members of Killymoon Golf Club for their hospitality, the Secretary Mr Cyril Rafferty for all his help and assistance, also the Caterers and Bar Staff together with the Ground Staff for having the course in excellent condition. Lastly to the many Sponsors who donated a large number of very valuable prizes which were on display on all the tee boxes on the golf course and display boards in the Clubhouse. ENDS