Planning for the Lodges Sesquicentennial began in 2017, the Worshipful Master Elect for 2019, Bro. Lee Burnside then the Junior Warden set up a committee which he called the " Band of Brothers" to plan and organise 3 Special events. Over the 2-year period, 20 meetings were held and extensive preparations were drawn up to hold the three major events;
Emergency Lodge Meeting :14th September.
Service of Thanksgiving in Joymount Presbyterian Church: 29th September.
Gala Night, Loughshore Hotel: 19th October.
176 members and guests attended the Formal Gala Dinner Dance It's not often a Masonic Lodge celebrates 150 years, but Abbey Masonic Lodge No. 180 have achieved that milestone and decided to celebrate their sesquicentennial, in style.
Pictured are some of the Guests present including (from L to R) Mrs Christine Burnside and her husband, W.Bro. George Burnside; the Worshipful Master, Worshipful Brother Lee Burnside and his wife Mrs June Burnside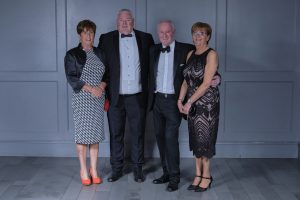 Also pictured, the Spiers family, from (L to R) W.Bro. Ed Spiers, Amber Spiers, R.W.Bro. Bobby Spiers & his wife, Mrs. Jean Spiers, W.Bro. Bobby Spiers and W.Bro. Gary Spiers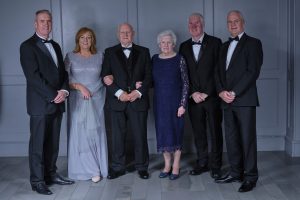 finally pictured, the Lodge "150th Anniversary Cake" cut and shared after Dinner.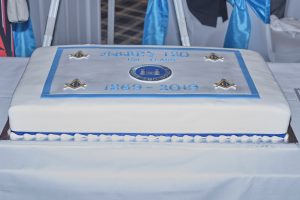 At the Gala, a Ballot for two very worthy Charities raised £1500 with the proceeds split 50/50 between Air Ambulance Northern Ireland and Prostate Cancer UK.